Is Building a Home Right for You?
Let's face it: Looking for a home isn't always as fun as it sounds. Cruising Zillow may have become a national pastime, but when it comes to actually pulling the trigger, frustration can sometimes overshadow the fun. Buying a home not only involves finding a house you're in love with—which can be a feat in and of itself—but you also have to compete with other bidders who love that home just as much as you do.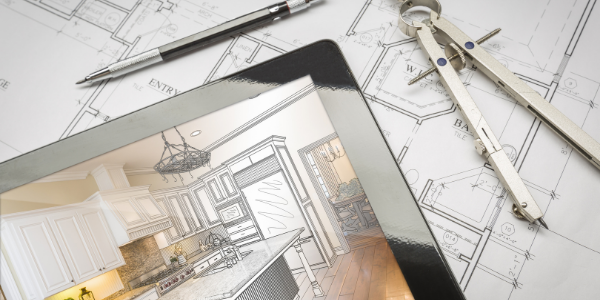 For these reasons, many homebuyers consider building a home instead. Of course, this decision isn't right for everyone. There are pros and cons to buying a home versus building a custom home.
Pros 
Build your dream home: Buying a home often involves choosing between either the right features or your favorite location. A custom home will be "perfect" from the start once construction is completed, so you won't need to remodel.
New tech: A new home will have energy-efficient technology that can save you money over the long run. You can also have the newest time-saving gadgets installed with a custom home.
A fresh start: When you buy a previously owned home, you cross your fingers and hope your inspector caught most of the glaring issues. Even if everything looked okay at inspection, you never know when something may need a repair. With new home construction, a warranty should cover any unexpected issues.
Cons
It can be expensive: Depending on the type of construction loan, you're almost sure to have a higher interest rate while construction is being completed on your custom home due to the high risks involved. Typically, the more customized the home, the higher the price. Spec homes and semi-custom homes can be less expensive. The good news is that the payments are low (typically interest-only) and can be paid monthly, paid ahead as a lump sum, or even rolled into the loan itself.
It takes time: Any type of custom home will require more decisions, time, and stress than buying an existing home. Make sure you're ready for that commitment and the home construction process.
Expect the unexpected: Costs and timelines may go over what is planned with custom home construction. You would most likely have to cover those costs out of pocket. Increased timelines could also lead to issues with selling your current home.
Construction Loans
Construction loans allow you to pay a builder while your home is under construction. APM offers a construction only loan, which is also known as a "two-time close" construction loan. This option includes both a construction loan that lasts through the construction period and permanent financing when construction is completed.
There are several advantages to this setup:​
You get lower payments while your home is being built (interest-only and can be financed into the loan).
You don't need to sell your current home right away to qualify.
If construction costs go over, they could be covered in the permanent loan (pending appraisal).
Does not tie up your builder's credit line.
But you should also be aware of a couple of disadvantages: ​
You will need to qualify for the loan twice​ (beginning and end).
You will pay closing costs and appraisals twice​.
Construction Loan Vs. Traditional Loan
The construction loan process is very similar to a traditional loan, but there are a few key differences:
Traditional loan
You need to be approved only once, and your loan lasts until it's paid off (or refinanced).
The entire amount owed is paid to the seller after closing.
The home can be used as collateral if something goes wrong, which equals lower risks and fees.
You pay off both your interest and principal in each monthly payment.
You keep this loan until it's paid off.
Construction loan
You have to get approved for two loans.
Payments are made to the builder in installments based on completed work.
Land might be the only collateral, so there are higher risks and fees.
You pay only interest during construction (up front, monthly, or rolled into the loan).
Questions to Ask Yourself While Deciding
What is my budget?
You don't want to fall in love with a home and then find out you can't afford it, so figure out your budget first. APM's loan officers can discuss loan options with you.
What type of construction am I interested in?
There are custom, semi-custom, and pre-planned options available.
A custom home lets you control every aspect, including the floor plan, but it also comes with more costs and a lot more time and decisions.
Semi-custom is usually available in higher-end developments. This is a good middle ground as you can still pick features but don't have to decide every detail that comes with a custom home.
Production homes are pre-designed developments that usually cost less and sometimes come with small, unique add-ons to make it your own.
Who will be my builder/general contractor?
Do your research. Builders usually have developments they're working on, so tour a model home to get an idea of their features. If you go with a custom home, you'll need to find a general contractor who will work as the construction manager. We recommend obtaining your own recommendations and references, and then checking with the Better Business Bureau and the National Association of Home Builders before signing any contracts.
What location am I looking for?
One of the advantages of home construction is building the perfect dwelling in the ideal location. So you get to decide: Do you want to live in a development or find your own lot?
Remember to ask questions about any HOAs in the area. Each will have its own rules and costs. And think about local schools, grocery stores, utilities, and commute times.
What custom home features do I want?
This is the best part of home construction! You get to choose your custom home features. Tour homes, go to home improvement stores, and look online at new energy-efficient tech and features.
Think about size, how the sun hits the home, the layout, whether you want a basement, and more. Remember to consider your future needs, including rooms for kids or a yard for a dog.
What's my timeline?
If you want to move into a new home immediately, custom home construction might not be right for you. Construction itself usually takes four to twelve months, not including your research time.
Custom Build Expenses
Custom home construction costs vary greatly based on square footage, location, features, and materials. Costs in 2021 ranged from $100 to $500 per square foot, but are usually between $100 and $200. The average price range in the U.S. for a 2,500-square-foot home was about $250,000 to $500,000.
Here's how those costs break down:
Pre-construction (design, permits): 10% to 25%
Land and site work: 3% to 8%
Foundation: 10% to 15%
Framing: 10% to 20%
Exterior work: 15% to 20%
Major systems (electric, HVAC): 10% to 15%
Interior finishes (drywall, floors): 25% to 35%
Additional features—including decks, pools, or landscaping—will add to your total.
Our APM Loan Advisors are well-versed in the custom home construction process, no matter how custom the home is.